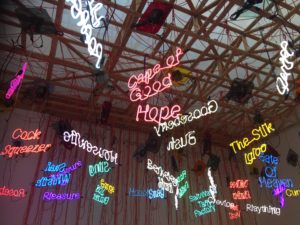 I recently attending The Brant Foundation Art Study Center's fall exhibition which featured the art of Jason Rhoades.  I entered the main room and was delighted by hundreds of words expressed in Neon. I like Neon. I read the words… Furry Horse Collar… Oak Tree Planter… Chopped Liver.  It was very nice.
https://www.youtube.com/watch?v=hbaYWuQpMmA
Then, it was explained to me that the neon words was actually a collection of 96 names for the Vagina.
What was very nice, was now awesome! Suddenly it all took on greater meaning and a much more vibrant and humorous experience.   Words like Twat Waffle or Snail Whistle blazed like a neon sign, well, it actually was a neon sign, but funny how I missed it before? It occurred to me that Mr Rhoades must have started with a list. With that, it inspired me to create my own list for Dick…
113 Names for the Penis:
Boy Juice Box
Totem Pole
Shaft (shut yo mouth)
Redneck Fishing Pole
Mission Control
Father John
Rain Stick
Hammerhead
Hercules
Sticky Lollipop
Doctor Feelgood
Lightsaber
Mr Wizard
Twinkie
Tim
Rocky
Willie Johnson
Governor
Dip Stick
Fat Elvis
Jam
The Flying Dutchman
Grim Reaper
Javelin
Maestro
Pokemon
Uncle Boo Boo
Junk
Snickers
Seed Spitter
St Peter
One-eyed Trouser Snake
Sidewinder
Flag Pole Freddie
Missile Man
Skyscraper
Connical Scanner
Cherry Pop Over
Pocket Rocket
Attila
Nasa
Samuel Jackson
Tallywacker
Dow Jones
Heat Seeking Missile
Jacob's Ladder
Too Much Garlic
Willie's Wonka
Homing Pigeon
'shroom
Gravy Master
Redwood
Walking Stick
Trombone
Tandem
Beef Kabob
Ticonderoga #2
Frankenfurter
Oil Rig
Crusty Helmet
Lamp Post
Obelisk
Cattle Prod
Damien
The Torch
Jungle Jim
The Professor (aka The Brains)
Tricky Dick
Wiki Leak
Rock Hard
Harvey Wallbanger
Boff Machine
Elephant Trunk
Magic Flute
Chief of Staff
Moby
Mr Happy
Powerball
Bratwurst
Cave Dweller
Bed-n-Breakfast
Womb Warrior
Fluffernutter
Eye of the Needle
Tarzan
Burrito Supreme
Tongue Depressor
Growth Opportunity
Mr Cheney
The Baguette
Ahab's Harpoon
Hot Dog Stand
Speak into the Microphone
Skippy the Wonder Dog
Chopstick
Shazam
Pipeline
Roy Moore
Foul Ball
Drooling Cyclops
Branch Manager
Wife Beater
Chance
Titty Fucker
Monolithic
One-eyed Bandit
Dean Wormer
Captain Fabulous
Spearhead Warrior
Jack Hammer
Eiffel Tower
Mr Friendly
PeePee Longstocking